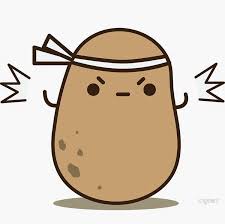 This is where we are doing our POTATO TRAINING! In order to fully be a random potato, you must;
be a potato
Have a potato on your profile
Just BE A POTATO!
In order to edit...
Edit
Click on the pencil next to the title
Only edit if information is correct
Notify an admin or a captain if you want to edit something above the potato training line
If failure to follow the rules above, you will get a warning. After 3 warnings, you could get blocked, so please be alert, and follow the rules above. Thank you. Please DO NOT BULLY OTHERS! Treat others the way you wanted to be treated! Please show kindness in this wiki, as you MIGHT be rewarded...
What is your favorite type of potato?
Edit
GoldenMoonlight1206- Cooked potato!
IMIL-potato i alredy ate
Potatoes smothered in chili and pepper!!!
Schwanegesang- Mashed potatoes (VOLCANO)
Ari/Ariana- FRENCH FRIES FROM CHICK FIL A
Bookperson876- Potato chips :)
KOTLCandBROADWAY- ALL OF THEM!!!! (except for sweet potatoes. I don't like them nearly as much as real potatoes)
CherryRipplepuffs- The potato in the mirror!
MamaGlitterButt- a baked potato with lots of butter, salt, sour cream and cheese.
EmmyAnimal- french fries and those young white ones I have no idea how they're called
All the members of the random potato club.
GoldenMoonlight1206 (Founder, Inactive)
I will talk to you if you want to become a potato ninja! I will train you, and other captains will help!
SIGN UP:
To become a Potato Ninja, please answer the following questions:

1.What is your reaction when someone says they don't like potatoes?
2.What would you do if a potato is rotting?
3.Do you consider yourself a random potato?
4.How much do you like potatoes?
5.How random are you?
Community content is available under
CC-BY-SA
unless otherwise noted.